Return to Headlines
Null students walk to learn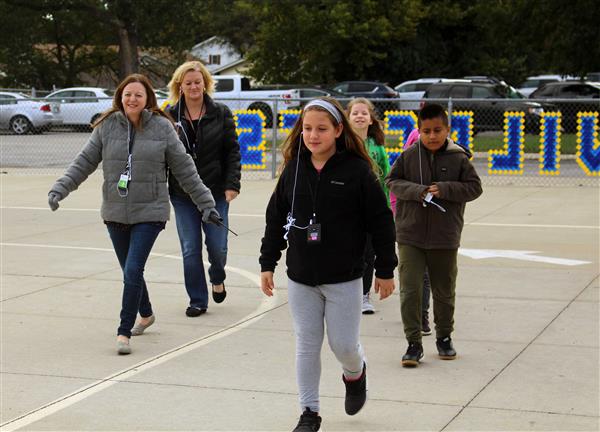 There are lots of different types of walks. There's a stroll or amble; a patrol, march or ramble. A trek or hike. A glide or stride.
While all of these types of walks can lead to different journeys, most of them wouldn't last 3 years, but that's how long it took for Sarah Schwartz, reading specialist at Null Elementary, to complete her journey of obtaining a grant from The Walking Classroom. The Walking Classroom is a program developed for elementary students that encourages physical, mental and academic health of students by creating a fun, immersive experience for them.
Twice a week, 3rd and 4th reading students visit Schwartz and her teaching partner, Kristel Jackson, to participate in The Walking Classroom program. Students are given small mp3 player devices and earbuds and are escorted on a walk to the playground and fields outside of the school building. While walking, the students and teachers listen to approximately 15 minute "podcasts" that discuss topics on reading and literary devices such as allusion, imagery, foreshadowing and metaphor/simile.
"The benefits of the program have been really positive," Schwartz said. "There is a positive relationship between our physical activity and cognitive function after our lessons. It's amazing how much they're retaining day after day."
Schwartz applied for a grant from The Walking Classroom over 3 years ago and was put on a waiting with other teachers from around the country. She received an email over the summer saying that she had been selected to receive a grant from the program, which included the walk-kit devices students use and a curriculum guide for the instructors.
Currently, there are 10 students who participate in The Walking Classroom program.
The students really enjoy the program. After a recent walk, students beamed about the metaphor/ simile lesson and how much fun it was.
"The students can't wait to go on our walks," Schwartz said. "They feel empowered, ready to learn, and leave focused and refreshed for the rest of the day. They leave so excited that they've got their peers wishing they could come too!"