Return to Headlines
L&C students excel at SkillsUSA nationals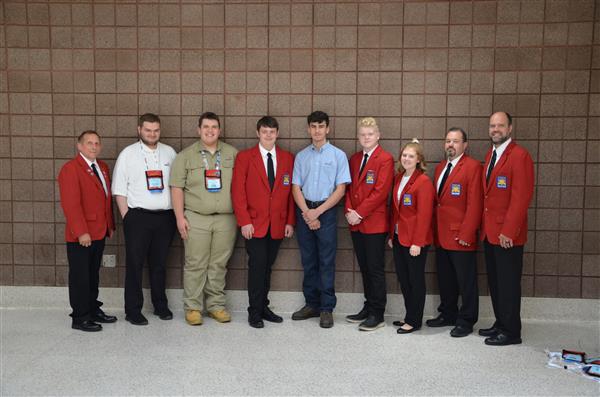 Recent Fort Zumwalt South graduate Jonathan Steensgaard was one of six Lewis & Clark Career Center students to travel to Louisville, Kentucky June 25-30 for SkillsUSA's 55th annual National Leadership and Skills Conference, the world's largest showcase of skilled trades and skill competitions where he placed 2nd in the nation in Auto Service Technology.
Two other Zumwalt students competed and finished in the top ten: recent North graduate Theodore "Tate" Mulnix placed 5th in the nation in Industrial Motor Controls and South's Robert "RJ" Henderson placed 6th in the nation in Information Technology Services out of the 50 states. More than 15,000 students, teachers, education leaders, and representatives from 600 national corporations, trade associations, businesses and labor unions participated in the event. It is the largest event of its kind in the world.
This invitation-only event was for first place state medalists in 100 competition areas for career and technical students. Steensgaard, Mulnix, and Henderson qualified after earning a first-place gold medal at the Missouri state competition in April. Steensgaard is currently working full-time as an auto technician and considering post-secondary options while Mulnix is working in the electrical field full-time. Henderson is returning to South for his senior year.
"All these kids represented Lewis & Clark, thier schools, our county and our state with such class and dignity." said Dr. Andrew M. Stewart, director of the Lewis & Clark Career Center. "All have bright futures ahead of them."
Other St. Charles County results from Louisville include Jimmy Johnson (Howell High) who finished 8th in HVAC Sheet Metal, Mason Aguilar (Howell Central) who finished 11th in Power Equipment Technology, and Amanda Hasenbeck (Howell North) who finished 22nd in Medical Terminology.
The Lewis & Clark Career Center provides career and technical education for St. Charles County juniors and seniors from all five school districts in St. Charles County. For more information, visit lewisclarkcc.org.