City of St Charles School District
A Proud Past...An Enlightened Future
Return to Headlines
Food Services workers are heroes of the crisis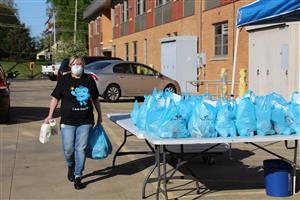 It's 8:20 AM on a Tuesday morning and the usually bustling streets of St. Charles are instead filled with the sounds of birds chirping and a glowing wash of morning sun. One of the serene side effects of the "stay-at-home" order issued by Governor Mike Parson earlier this month is the abundance of tranquillity during what are typically high traffic times.
However, 10 minutes later pockets of this peace will be disturbed as the hum of car engines and shuffling feet overtake the quiet as City of St. Charles School District food service associates, maintenance workers and volunteers serve their community.
Every Tuesday and Friday from 8:30 to 11:30 AM, these workers and volunteers help distribute meals for the week and District learning packets to those who are in need of the service. At both Hardin Middle School and Jefferson Intermediate School, families and food delivery volunteers line up to receive meals that students would normally receive during school hours or from school programs.
"We have the highest percent of free and reduced lunch families of any district in St. Charles County, so we knew there was going to be a need," said Shirley Derby, Food Service Director for Chartwells, the food service partner of the City of St. Charles School District. "But beyond that, there are many families that are close to qualifying (for free/reduced) or who have been impacted by the recent turn in the economy who are needing our services as well."
To help fill this need, Chartwells and their associates in the City of St. Charles School District have stepped up to the plate and done an amazing job serving the St. Charles community. Between the two distribution sites, workers provide an average of 10, 400 meals per week.
"There's really not enough good things that can be said about these folks," said Dr. Jason Sefrit, City of St. Charles School District Superintendent. "Because of their dedication and efforts, there's no doubt that our community is in a better position to push through this crisis."
While the public only sees their efforts for a few hours a week, Chartwells associates and maintenance workers are also behind the scenes planning and prepping for the meal distribution slots. Meal pickups on Tuesdays and Fridays are for 3 and 4 days each, respectively, and it takes time to package and prepare the meals so that distributions to families in need are as efficient and stress-free as possible.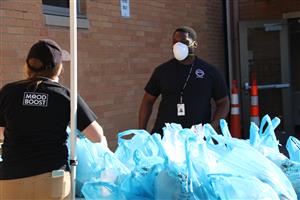 The efforts and sacrifice of the food service workers, maintenance workers and volunteers are not lost on the District or the community. There is a true spirit of collaboration and community pride with Chartwells and the City of St. Charles School District to serve the needs of students and their families, especially during this time of emergency school closure.
"I've heard such wonderful feedback from so many people during this situation," Derby said. "The whole community is very appreciative of the vital role they're playing to support the City of St. Charles."
For the workers who are doing what they can to help their community, the work they're doing is more than a job, it has a sense of duty as well.
"There's definitely a sense of pride that goes into this," said Debbie Thelen, Chartwells Unit Lead at Jefferson Intermediate School. "Knowing that you're doing something to help people during these tough times means something to us."
And when things return to a sense of normalcy, the City of St. Charles community can come together to show these amazing workers and volunteers what they mean to us.