City of St Charles School District
A Proud Past...An Enlightened Future
Return to Headlines
Dr. Earl Draper named Assistant Superintendent of C&I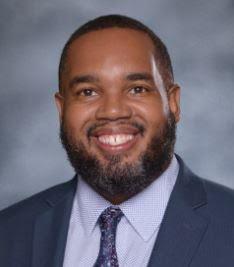 The City of St. Charles School District is excited to announce that Dr. Earl Draper has been selected to serve as assistant superintendent of Curriculum and Instruction, effective July 1, 2022. The District's Board of Education approved the selection at its May 12, 2022 meeting.
Dr. Draper currently serves as the principal of DuBray Middle School, a role he has occupied since 2019. Prior to his current role, Dr. Draper served as an assistant principal for ten years, with the last 3 of those years being served at Hardin Middle School.
"I'm very excited to return to the City of St. Charles School District," Dr. Draper said. "This is a leadership role that has a large impact on every student in the district. It's an opportunity and responsibility that I welcome."
Dr. Draper holds four degrees: a Doctorate in Education from Maryville University, a Master of Education Administration from Missouri Baptist University, a Master of Arts in Teaching from Webster University and a Bachelor of Science in Education from the University of Central Missouri.
"We are very excited for Dr. Draper's new role in the St. Charles School District family," said Dr. Jason Sefrit, superintendent of schools. "This is a senior leadership role in the district and we're confident that Dr. Draper is the right person to take the helm of the Curriculum and Instruction department."
Dr. Draper will be replacing Dr. Danielle Tormala, who is becoming superintendent of the Wentzville School District at the end of the 2021-2022 school year after serving the district faithfully for 16 years.