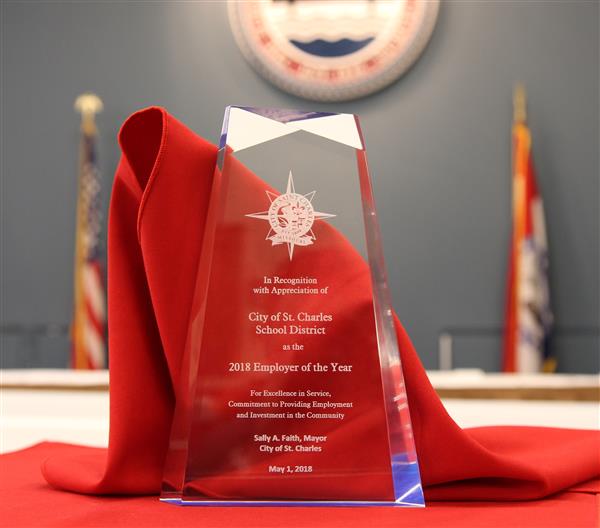 The City of St. Charles School District is honored to announce that it is the recipient of the City of St. Charles 2018 Employer of the Year award in the category of service.
The award was presented to the District by St. Charles mayor Sally Faith at a luncheon held on May 1 at the St. Charles Convention Center. The luncheon was hosted in conjunction with the Greater St. Charles County Chamber of Commerce.
"It's a great honor to be recognized by the City of St. Charles as a leader in service," said Dr. Jeff Marion, superintendent of schools. "Our goal is to reach, teach and empower every child who steps into our schools and we strive to provide our community with a top-notch educational institution."
During the presentation, growth in the area of early childhood education, their efforts in employee recognition and the close work with local organizations such as Care to Learn-St. Charles and We Love St. Charles to improve the lives of students outside of the classroom were cited as reasons why the District won the award.
"While education is the primary focus of the District, we are proud to be able to offer services and assistance to our community that go above and beyond a typical public education," said Dr. Marion.