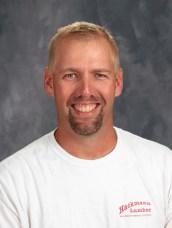 Phone: 636-443-4973
Email:
Degrees and Certifications:
Mr.

Charles Henke

BUILDING TRADES INSTRUCTOR

A graduate of Fort Zumwalt North and Lewis & Clark (where he was honored as an outstanding senior in the Building Trades program), Mr. Henke is thrilled to be back teaching at Lewis & Clark. After leaving high school, Mr. Henke earned his associate's degree in applied science and skilled trades at St. Charles Community College and his journeyman's card through the Carpenter's Union. He then worked for Jones Company, McKelvey Homes, and Builder's Block before starting at Lewis & Clark in 2003. Mr. Henke is the Lead Advisor for SkillsUSA, which is the main student organization for students at Lewis & Clark.

When Mr. Henke isn't helping friends and family with their home improvements, he loves spending time outdoors. Hunting and camping are two of his favorite pastimes, especially when he shares those activities with with his wife and three children.

"I look forward to coming to work everyday to work alongside my students to build a house from the ground up. I also enjoy keeping up with my students to see where their careers take them and learning about their accomplishments."
2 year program; 3 units of credit per year

This course is open to juniors who show an interest and aptitude in the field of construction as a wage earning occupation. Students are familiarized with entry level skills for the major trades involved in residential constructions such as carpentry, siding, interior trim, drywall hanging, roofing, concrete work, and landscaping.

Most of the program involves the actual building of a house in Lewis & Clark Career Center's own subdivision. Students not only gain experience in home construction, but also will learn about subdivision construction. Houses are sold upon completion. Students will gain experience in building both single and a two-story dwelling.

Because of the high demand nature of this program, students interested in a second year must demonstrate a proficient level of ability in the field necessary to be recommended for hire by area contractors for a summer apprenticeship. Second year students are expected to act as foreman and leaders to first year students.

Students will have the opportunity to earn an OSHA 10 certificate and to be prepared for the WorkKeys assessment, required by the Carpenter's Union.

It is recommended that students have one year of industrial arts.